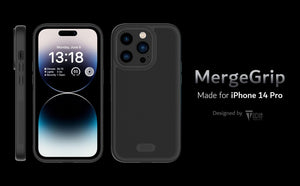 Best Protective Case for Apple iPhone 14 Pro? TUDIA MergeGrip Case with MagSafe Compatibility
If you're looking for the best protective and slim iPhone 14 Pro case with magnetic capabilities, the TUDIA MergeGrip case for iPhone 14 Pro might just be the perfect option for you. The TUDIA MergeGrip Case, was featured as one of the best iPhone 14 Pro cases by Pocket Now. Made with dual-layer TPU and polycarbonate materials, this case is designed to protect your phone from scratches, drops, and impacts. The case also features a raised bezel to protect your camera and screen, as well as precise cutouts for easy access to all ports and buttons.
One of the standout features of the TUDIA MergeGrip Case is its built-in magnetic ring, which is compatible with MagSafe chargers and wireless charging. MagSafe is Apple's proprietary charging technology that uses a ring of magnets inside the iPhone and the charging accessory to align the two devices for a secure and efficient charge. With the TUDIA MergeGrip Case, you can easily charge your phone without having to remove the case, and enjoy the benefits of MagSafe charging. The MergeGrip design also adds extra grip to the sides of the case for a secure hold, while the slim profile allows for easy pocket storage.
TUDIA Products is a company that specializes in designing and manufacturing high-quality phone cases and accessories. They have been in the industry for over a decade and are committed to providing customers with the best iPhone 14 Pro cases that offer both style and protection. The TUDIA MergeGrip Case is one of their latest offerings for the iPhone 14 Pro 5G, and it showcases their dedication to quality and innovation.
---