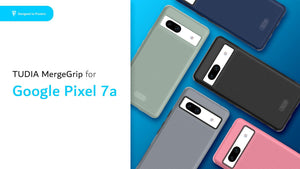 Ultimate Protection - TUDIA MergeGrip Case for Google Pixel 7a
Looking for a reliable case to protect your Google Pixel 7A from accidental drops, bumps, dust, and scratches? Look no further than the TUDIA MergeGrip for Google Pixel 7a!
This ultra-rugged case provides dual-layer protection with flexible, impact-absorbing TPU and hard, durable PC with reinforced corners, side body bumper, raised lips around screens and camera.
The TUDIA MergeGrip case features a slim design that adds minimal bulk to your sleek Google Pixel 7A, making it easy to slip in and out of bags and pockets. Another great feature of the TUDIA MergeGrip case is its anti-slip back pattern. The non-slip textured design on both sides and back of the case provides additional grip while holding your phone, preventing accidental drops from your hand.
The tactile and clicky buttons are designed for stress-free usage, making it easy to access all the phone's features. Whether you're a busy professional or an active individual, the TUDIA MergeGrip case is the perfect solution for keeping your phone safe and secure.
One of the standout features of this case is its ToughRhino technology, which provides dual-layer protection against drops and scratches. The combination of the flexible TPU and hard PC materials ensures that your phone is protected from any potential damage, while the reinforced corners and side body bumper provide additional shock absorption. This makes the TUDIA MergeGrip case the ideal choice for anyone who needs a rugged and durable case that can withstand even the toughest environments. The raised lip and edges of the case also protect your camera and screen, ensuring that it remains in pristine condition.
If you're looking for a case that provides ultimate protection, durability, and style for your Google Pixel 7a, look no further than the TUDIA MergeGrip case. With its slim design, dual-layer protection, anti-slip back pattern, and ToughRhino technology, this case is the perfect choice for anyone who wants to keep their phone safe and secure while still maintaining a stylish and sleek look.
---