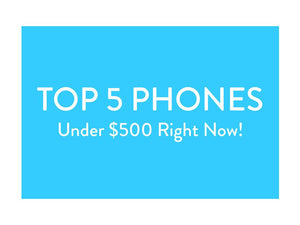 Top 5 Phones Under $500 Right Now!
Let's be honest- there are a lot of phones out there. It can be overwhelming with the amount of new phones released every month, and the high price can sometimes make it hard to stay up-to-date with your device. Luckily, there are some great phones out there right now with respectable prices or on sale- here's our list of 5 great devices under $500!
The Pixel 3a is a no-brainer on any sub-$500 list. Made to bring the best flagship camera onto a more affordable device, the 3a still preforms better than most mid-tier devices. While this model isn't on sale right now, it's still the undisputed champion of middle-of-the-road smartphones.
A more affordable option, the G7 is the more well-rounded device that has all around decent internals for a much smaller price tag. While it might not have the camera of the Pixel 3a, it is still more than capable of getting the job done with its 12 MP camera. Motorola has always been considered the best in terms of budget phones, and the G7 is no exception.
If the previous options weren't quite what you were looking for in terms of hardware, our next picks are for you. The Note 8 might have cost a fortune a while ago, but is now a much more affordable price. Being a flagship from 2 years ago, this phone is still more than capable of providing a smooth, enjoyable user experience. In addition, this device is still receiving security updates, keeping all your personal data safe! On sale for almost 50% off, this device is a great pick for a more affordable flagship from only a few years ago.
 2. Galaxy S9
 

-

$449, $125 off 

 
If the Note 8 is just a little too old of a release for you, the next iteration of Galaxy phones is on sale as well. The S9 is much like the Note 8, but has slightly better processing chip and features like low-light shooting and facial recognition. With $125 off, this is another great pick for a high-end smartphone for mid-tier pricing.
If you are a big mobile gamer or just looking to upgrade to a modern flagship without spending a fortune, now is the time! The Razer Phone 2 is currently 50% off on Amazon, the lowest it's EVER been. This phone is truly a flagship and, while originally made to cater to the gaming community, still has the specs of any other high-end phone model. You don't have to be a gamer to enjoy that 120hz refresh rate for the smoothest screen on the market!
---