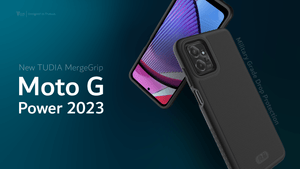 TUDIA MergeGrip Case for Motorola Moto G Power 5G (2023): Best Rugged Grip Protection Case!
Are you looking for a top-quality protective case for your new Motorola Moto G Power 2023 5G? The TUDIA MergeGrip case for MOTO G POWER 5G - 2023 is an excellent choice for anyone seeking affordable, reliable, and durable protection for their phone.
With its slim yet rugged design, this case is built to last. Its dual-layer construction features an outer armor shield made of textured polycarbonate, while the inner layer is made of flexible TPU for added shock absorption and durability. The MergeGrip case also has raised edges to protect your phone's screen and camera from scratches and drops.
Not only is the TUDIA MergeGrip case durable, it's also affordable. At a fraction of the cost of other top-rated cases, it's a great value for the level of protection it provides. And with its sleek design, it won't add any unnecessary bulk to your phone.
Don't leave your new Android phone unprotected! Check out the TUDIA MergeGrip case today and enjoy peace of mind knowing your phone is protected by one of the best cases on the market.
---